Reusable men's incontinence pants
with a slimline absorbent and leakproof pouch designed for everyday protection against minor drips and dribbles. Now available in iron grey or black pinstripe.
MEN'S SHORT TRUNKS
RESUABLE INCONTINENCE PANTS
Please note, some of our styles are currently transitioning to a modified pouch design. The absorbency will remain the same, but you may notice a slight variation in the construction. The new design will roll out as sizes sell through. If you have any questions, please email our customer service team on info@confitex.com 
Confitex for Men Short Trunks with Everyday Absorbency provide comfort and confidence to men experiencing minor bladder leaks throughout the day, when exercising or during exertion.
Available in iron grey or black with grey pinstripes, Confitex urinary incontinence underwear look and feel like ordinary boxer briefs, with no external branding, so you can get changed at the gym with no-one the wiser. Our reusable absorbent underwear are made from light premium-quality fabric to minimise tell-tale seams and ensure breathability and comfort.
What sets our men's leakproof briefs apart from other washable incontinence briefs is a moulded pouch lined with Confitex's patented textile, which has been lab-verified hyper-absorbent, leakproof, odour-resistant, breathable, durable and free of potentially harmful substances. Read more on our blog. The slimline 2mm/.08 inch thick pouch of Confitex for Men Everyday Absorbency underwear has been independently lab-verified to absorb at least 50ml /1.7 fl oz. Read reviews.
Because of their superior absorbency, Confitex for Men incontinence underwear may take longer to dry than your usual laundry. But the good news is that, unlike most other brands, they can be safely tumble-dried – a bonus for busy lives!
Why choose Confitex for Men? 
✓ Superior absorbency and leakproofing – read the lab-test results 
✓ No external branding or visible bulk
✓ Reusable to save you money and prevent disposal dilemmas
✓ Comfortable, breathable, hypoallergenic and gentle on your skin  
✓ Lab-verified odour-resistant  
✓ Machine washable and tumble dryable – unlike most other brands!
✓ More eco-friendly and sustainable than single-use incontinence guards and shields
✓ Verified free of potentially harmful PFOS and PFOA chemicals
✓ Easy online order and delivery to your door  
✓ Discreet 'normal' underwear design and plain packaging  
✓ Free shipping within NZ on orders over $140
First-time user? 
Sign up to our newsletter by entering your email at the bottom of this page and get 10% off your next purchase.
Not sure which Confitex for Men trunks are right for you? 
Read other men's experiences and product reviews on our blog.
See how our underwear compares with single-use guards and shields. Different people have different needs, so individual results may vary. Many of our new customers like to buy one pair to trial in the privacy of their home, then once they know they've got the right size and absorbency they come back to buy multiple pairs.
MEN'S INCONTINENCE PANTS TESTIMONIALS
Kevin's review of the new Confitex for Men range 
"I have found them most comfortable. Not having a centre front seam allowed me to wear them under my Lycra walking strides. The sheerness of the cloth kept me cool, and I felt very secure even when I did have leakage. They are the bee's knees when it comes to keeping one dry. I was most impressed. A great product, well worth the cost."
Tem's review of the new Confitex for Men range 
"I received the new underwear today and they are awesome. They are so good I would like to purchase more. I wore them out walking tonight and I forgot I had them on. I couldn't do that with the old version as they got too hot. You guys have a cool product. They are fantastic."  
Kal's story: Embarrassing drips and dribbles
"The reality is that after you hit 50 you realise your body's not what it was. I don't have any real health issues and I try to make it to the gym regularly, but things are definitely changing.
"I have to say, no guy ever talks about it. It's a private thing. There are times during the day, at the gym or maybe at work sitting at my desk, that I notice an involuntary release of urine. It's not much but you don't want that happening. It's a bit embarrassing, but I don't feel like it's a medical condition that I need to get help for.
"I was given the Confitex Everyday undies as part of a trial – from a friend of a friend. They wanted normal guys to test them.
"They are just like the trunks that I usually wear – maybe not quite as stylish as, say, Calvin Kleins, but very good quality, soft, light and very comfortable. Being picky you notice that the front has a slightly bigger pouch, but actually I like that you get a bit more support down there, which feels good.
"At the beginning I felt a bit self-conscious wearing them – I mean, who pees in their pants? But I have come to really like them and now I always go for the Confitex when I go to the gym.
"They look a bit techie on the inside and are just a dark grey with no branding – so my wife actually has no idea, which is good because she does our washing. And they can also go in the dryer, so again, she has no idea.
"When my friend's friend approached me again and asked if I'd trial some more styles for comfort, I naturally said yes. So that gave me a few pairs as a start, and I notice these are now the undies I reach for each morning. I've noticed that I feel more psychologically secure when I wear them – that I'm covered against any mishap, it is mentally freeing.
"Leakproof undies are not the sort of thing I would've thought about ferreting out and buying for myself – not in a million years – but now I've tried them I'm sold. Also, being online, they're something you can buy privately and no one is ever going to know. So yes, I can absolutely recommend them."
MALE INCONTINENCE UNDERWEAR
ABSORBENCY GUIDE
Confitex for Men Trunks with Everyday Absorbency offer light protection against minor drips and dribbles throughout the day. For many men, this stress incontinence occurs when they cough, sneeze, laugh, lift something heavy or exercise.
If you currently don't use absorbent briefs or trunks, but you want to safeguard against minor leaks and odour from urinary leakage, or if you use disposable incontinence pads, guards and shields such as Depend for Men Shields or Tena Men Protective Shields, Confitex for Men Trunks with Everyday Absorbency should suit your needs.
If you have a higher level of leakage and use heavier disposable incontinence products, you may prefer to try our Long Trunks with Everyday Plus Absorbency or Short Trunks with Extra Absorbency.
If you have little or no bladder control, we're sorry our male incontinence underwear will not meet your needs.
To provide transparency and guidance in a largely unregulated industry characterised by unsubstantiated absorbency claims, we commissioned leading international standards laboratory UL to subject our products to stringent testing. Testing showed that Confitex for Men Trunks with Everyday Absorbency absorb at least 50ml of liquid at a speed of at least 0.52 ml/sec. (In fact, the total absorbency verified by UL was substantially higher than this, but we have chosen to more accurately reflect the volume that can be accommodated without leakage in a real-life situation that allows for gravity, movement and compression.) Click here for the full results.
Wondering how our underwear compare to disposable shields and guards? We commissioned independent standards testing laboratory UL* to test them against leading single-use paper products. Here's where they fit on a scale of absorbency.
* The following is a graphic depiction of comparative results based on UL Laboratories testing of Confitex and selected leading brands of single-use absorbent liners and pads undertaken January-April 2020.
CONFITEX FOR MEN INDEPENDENT ABSORBENCY TESTING
BLADDER LEAKAGE COMPARATIVE ABSORBENCY
BLADDER LEAKAGE COMPARATIVE ABSORBENCY


Confitex for MeN Trunks: Everyday

Tena Men Protective Shields
Tena Men Absorbent Protector Guards: Level 1

Confitex for Men Trunks: Extra

Tena Men Absorbent Protector Guards: Level 2
MEN'S INCONTINENCE PANTS
SIZE GUIDE
To work effectively, it's important that your underwear fits snugly. We strongly advise that you measure yourself before ordering, rather than just guessing.
Our range includes men's large incontinence pants (including up to 3XL) and we manufacture down to a size Small as well. Our sizing categories are based on the same international standards as Calvin Klein underwear and can be used as a general guide, but actual measurements are more likely to result in the perfect fit.
Many of our new customers like to buy one pair of our washable incontinence boxer shorts to trial in the privacy of their home, then once they know they've got the right size and absorbency they come back to buy multiple pairs.
Measure around your waist, keeping tape parallel with the floor, then consult our chart.
MEN'S REUSABLE INCONTINENCE PANTS
CARE INSTRUCTIONS
UNDERWEAR: 92% VISCOSE, 8% ELASTANE. ABSORBENT TEXTILE: 97% POLYESTER, 3% ELASTANE. CRAFTED WITH CARE FOR 100% CONFIDENCE.
Our leakproof absorbent underwear for male incontinence can be hand or machine washed just like your ordinary underwear and, unlike most brands, you can also pop them in the tumble dryer without impacting their leakproof performance (the plastic layer in other brands tends to shrink and warp in the dryer, leading to leaks). They can also be dried in an airing closet or on an indoor drying rack or heated towel rail. They'll dry faster if turned inside out, and will take about the same amount of time to dry as a pair of thick sports socks.
Wash and dry before use to activate fibres for full absorbency. Turn inside out to rinse after use, then wash on a delicate cycle below 40°C/105°F, or hand wash separately if you prefer. Do not bleach, do not use fabric conditioner, and do not dry clean. Dry away from direct sunlight or tumble dry on low heat. For further instructions on caring for your Confitex reusable incontinence briefs see our FAQs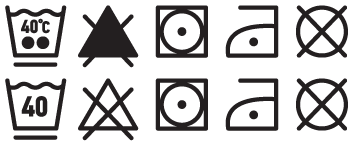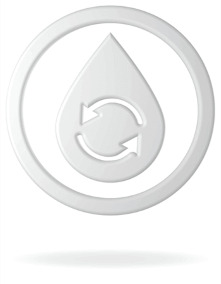 Frequently asked questions
Which level of absorbency do I need for my Confitex urinary incontinence briefs?
One man in five lives with unexpected little leaks, often as a result of ageing, injury or health issues such as prostate cancer.
Confitex for Men Trunks with Everyday Absorbency are designed to help men living with minor drips and dribbles. Our Trunks with Everyday Plus are designed for light incontinence. If you have moderate leakage you may prefer to try our Trunks with Extra Absorbency. Some men like to have a few of each on hand to meet their lifestyle needs, whether at home, exercising, or when they require extra reassurance. If you have little or no bladder control, we're sorry our underwear will not meet your needs. Please discuss your options with your health professional or carer.
What colours of male leakproof briefs are available from Confitex?
What sizes of incontinence briefs for men does Confitex make?
We currently manufacture Confitex for Men Trunks in sizes S to 3XL. See our Size Guide for details.
Are Confitex men's reusable incontinence pants cost-effective?
Designed to be worn again and again, Confitex for Men trunks can be thrown in the washing machine and tumble dryer and have been lab-tested to withstand as many washing and drying cycles as ordinary underwear. They cost about the same as a pair of Calvin Kleins and last just as long!
How long do they take to dry?
Our absorbent underwear can be hand or machine washed just like your ordinary underwear – and you can safely pop them in the tumble dryer without impacting their leakproof performance. They can also be dried in an airing closet or on an indoor drying rack. They will take a little longer than ordinary underwear to dry – about the same as a pair of thick sports socks.
Why wouldn't I use disposable guards or shields instead?
Many men prefer the convenience, comfort and discretion of wearing ordinary fabric underwear with the absorbency built in. They also tell us they're saving money by not having to buy single-use guards and shields each week, and they prefer the discretion of ordering our underwear online, rather than having to brave the supermarket checkout. It also saves them the inconvenience of having to dispose of used guards and shields in the workplace or public toilets. We know our trunks are life-changing because men tell us so all the time – read some of their stories here. And Confitex for Men trunks are also an environmentally friendly solution to life's little leaks as you won't be sending wads of plastic-lined guards and shields to the landfill each week. Find out more on our blog.
How do I apply for ACC funding?
Where your injury was caused by an accident (such as medical misadventure) and has been accepted for ACC cover, ACC may be able to fund your Confitex products.

Please talk to your ACC recovery team member, or contact ACC's claims team (who will be able to access Confitex products via their Onelink catalogue) about applying for funding for our products. You will need to have your claim number ready.
ACC contact details
Phone 0800 101 996 (Monday to Friday, 8:30am - 5pm)
Email claims@acc.co.nz
www.acc.co.nz 
More questions? See our Frequently Asked Questions section here.
For orders over NZ$140, shipping within New Zealand is free.
For orders under NZ$140, shipping within New Zealand is NZ$6.90.  
We will do everything we can to get your products to you in a timely fashion. We aim to have all orders dispatched from our Auckland warehouse within one working day. Please allow an estimated delivery time of five working days (items may take longer to get to you during busy periods and public holidays). Please be aware that disruptions to supply chains as a result of natural disasters, extreme weather events, pandemics and/or industrial disputes, which are beyond Confitex's control, may further delay deliveries.  
Orders are sent via NZ Post tracked courier delivery. When your order is dispatched, an email will advise you of your tracking number, so you can monitor its delivery. For up-to-date information regarding the NZ Post delivery schedule please visit their service alerts page or click the tracking link in your dispatch notification email.  
For deliveries to Australia, USA or UK and Europe please click the flag icon in our website footer to order from your local website.  
Our deliveries arrive in discreet plain packaging or courier bags.
For further information regarding delivery please see the Delivery + Returns section of our Help page.  
If you have any queries about Confitex products or your order, please contact us at info@confitex.com.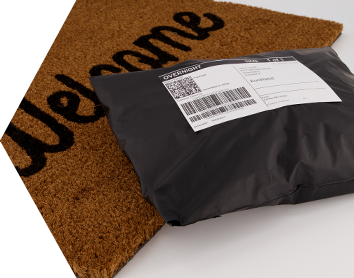 Confide review

Fit well, look good and most importantly are totally absorbent

Excellent

Very good quality, good sizing and stylish.

Men's Confitex underwear

An excellent well thought-out solution for a difficult problem.

William G.

Verified Buyer

Extremely comfortable exactly as advertised!

Prevents the last drip leaving an embarrassing damp patch. 😊

New purchase

Like the material, comfortable but I should have bought the Long trunks…will be ordering a py

Incontinence pants

They fulfill their purpose well,for me

Great for dribbles

I liked these because after surgery I have very few dribbles, but they do occasionally happen. I don't need trunks that are super absorbent like others I've tried. These have just a smaller absorbent pouch in the front that work just great after surgery.

William H.

Verified Buyer

trunks

very comfortable and effective....

New trunks

So far they do as advertised, should have bought at least two pair - 1 for wearing- and 1 for cleaning and drying
Reviews Loaded
Reviews Added
you may also be interested in
Carry a spare pair in one of our discreet and convenient leakproof wetbags and you'll never be caught short again.

A great last-minute gift idea! 
Allows the recipient to select what they really want 
We'll email you a virtual e-card to print or forward on 
Redeemable only online at confitex.com or justncase.com 
Expiry one year from date of gift card purchase 
Terms and conditions apply 

Reusable leakproof underwear for men

with an absorbent and leakproof pouch designed to give reassurance against light urinary incontinence. Available in light grey or navy blue with a grey pinstripe.

Men's washable incontinence underwear,

lab-verified to provide superior leakproof protection for light-to-moderate bladder leakage.